CHARLES SOVEK
March 23, 1937 - June 8, 2007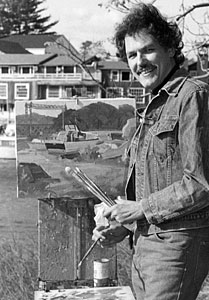 Publicity photo for Catching Light in Your Paintings
1984

If this is your first time visiting the site, roam at your leisure. There are hundreds of paintings and dozens of lessons, not to mention commentary, book information and lots more. Download to your heart's content!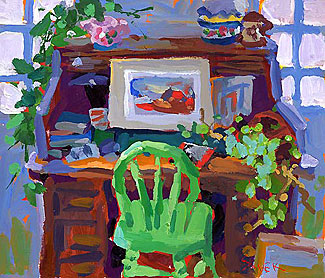 Oil Painting: Develop Your Natural Ability
The all-color edition of this book is back in stock and available for purchase.
The Basics

Charles developed The Basics to capture his series of 36 lessons for the painting student, sharing his expertise in line, tone, and color in a way that will benefit artists of all levels of experience.
The price is $45.00 for this beautiful book, plus $10.00 shipping and handling, and you may order online via this page.
Gallery for Charles Sovek's Work!
Gallery Antonia, 1291 Main St (2nd floor) in Chatham, Cape Cod, MA (02633), is the year round gallery for Charles' work. The owner is Domonic Boreffi (email domonic@galleryantonia.com; phone 508-469-4090).
Thanks for visiting Charles' website and enjoy viewing the paintings!
Instructional DVDs – Temporarily Suspended
We have temporarily stopped the sales of the set of 3 instructional DVDs, due to flaws reported on some of the discs. Hope to have the problem corrected and the DVDs back for sale soon.
---
Three books and one DVD are currently available for purchase:
The Basics
Oil Painting
A Painter's Tour de France
Plein Air, Painting the American Landscape (PBS DVD series with a 30-minute segment featuring Charles)
Please visit the Books & DVDs page for prices and ordering options. Shipping costs have increased slightly. We are once again taking orders via PayPal, for your security and convenience.
Please continue to check back here at the website for updates.
And best wishes for happy painting!

Copyright © 2016 - All Rights Reserved - Charles Sovek Trust