CHARLES SOVEK
March 23, 1937 - June 8, 2007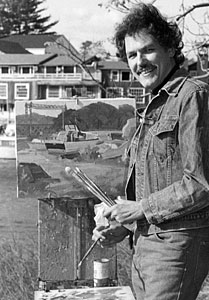 Publicity photo for Catching Light in Your Paintings
1984
Updated 30 September 2013

If this is your first time visiting the site, roam at your leisure. There are hundreds of paintings and dozens of lessons, not to mention commentary, book information and lots more. Download to your heart's content!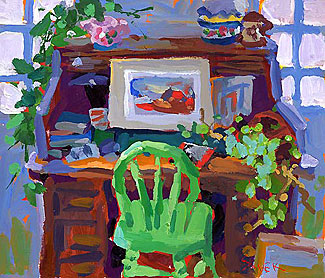 What hurricane?
Following a temporary setback known as "Hurricane Sandy," we are again up and running with all the books, booklets, and DVDs for sale. The all-color edition of Oil Painting: Develop Your Natural Ability is back in stock and available for purchase. Thanks for your patience!
The Basics

Charles developed The Basics to capture his series of 36 lessons for the painting student, sharing his expertise in line, tone, and color in a way that will benefit artists of all levels of experience.
The price is $45.00 for this beautiful book, plus $10.00 shipping and handling, and you may order online via this page.
New Gallery for Charles Sovek's Work!
Gallery Antonia, 578 Main St in Chatham, Cape Cod, MA, is now the year round gallery for Charles' work. The owner is Domonic Boreffi (email domonic@galleryantonia.com; phone 508-469-4020).
Thanks for visiting Charles' website and enjoy viewing the paintings!
Instructional DVDs Are Back!
We've just received a new batch of DVDs and are once again taking orders for this three-disk set.
Watch Charles paint and talk! – Three instructional DVDs made from homemade, unedited videos of his famous demos and workshops have arrived! Over five hours of Sovek, called "treasures" by a painter friend and former student. The set includes:
Tone & Color Workshop, Scottsdale, AZ circa 1999


Studio painting demo of a painting from Greece, 1996


Painting demo on location, Mendocino, CA Workshop, 1997
Order this set of three DVDs for $75.00 + $5.00 shipping and handling.
Purchase the three DVD set

...
Price - $75.00
S&H - $5.00
Prefer not to use PayPal? Please send a check or money order to Charles Sovek Trust, c/o Peggy Sovek, 3 Logan Place, Rowayton, CT 06853


DVDs Copyright © 2010 - All Rights Reserved - Charles Sovek Trust
---
Five books and one DVD are currently available for purchase:
The Basics
Oil Painting
Keying your Paintings
A Painter's Tour de France
Plein Air, Painting the American Landscape (PBS DVD series with a 30-minute segment featuring Charles)
Please visit the Books & DVDs page for prices and ordering options. Shipping costs have increased slightly. We are once again taking orders via PayPal, for your security and convenience.
Please continue to check back here at the website for updates.
And best wishes for happy painting!

Copyright © 2013 - All Rights Reserved - Charles Sovek Trust